Scoping
Plan your verification of income & employment integration.
Credit decisioning begins with the verification of income and employment. Argyle provides both of these verifications.
We suggest integrating Argyle in two phases:
Scoping (this guide) - determine how you want to use Argyle and how to present the Argyle experience to your users.
Implementation - a guide to get you up and running.
---
Step 1: Scope the user flow


There are four aspects to consider when thinking about the user flow:
Where in the process do you want to leverage Argyle?
Which users do you want to route through Argyle?
How to on-ramp and off-ramp users?
How can a user disconnect their account?
---
Where in the process do you want to leverage Argyle?
Argyle can read all information within an employment account. This can be used at various periods in the application process:


During pre-qualification or early application - autofill an entire application (personal information, employment information, etc.)
Underwriting - decisioning for an applicant
Verification - during verification of employment or income phase after decisioning
Ongoing servicing - this can be used for ongoing monitoring of employment and income or marketing opportunities
Argyle has persistent access to an employment account once it is connected. Therefore, wherever you put Argyle in the process, you get all of the downstream benefits—for example, if you implement in phase 2, you automatically get the data for phases 3 and 4.
---
Which users do you want to route through Argyle?
There are two ways to initiate Argyle: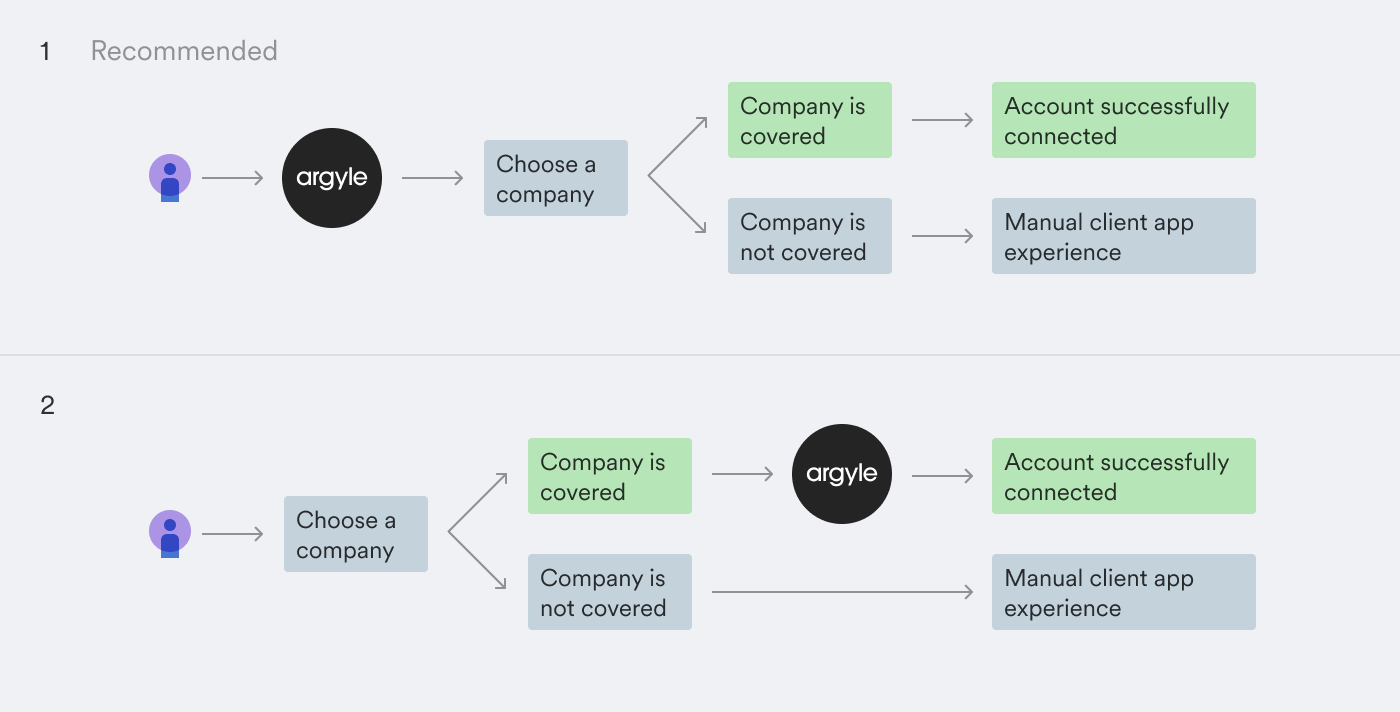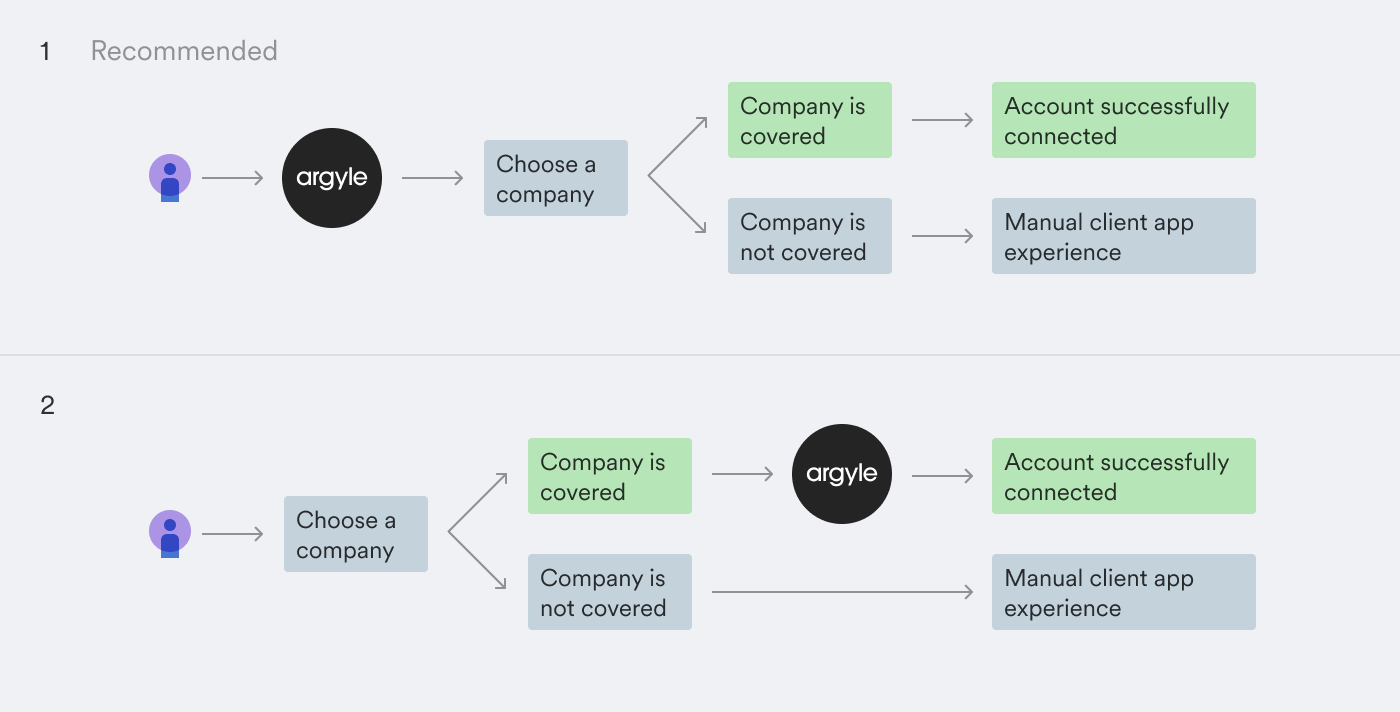 All users through Argyle (recommended)
Argyle for covered companies only
All users through Argyle
Send all users through Argyle and leverage Argyle as a switchboard to alternative VOIE options.
For users where Argyle has coverage, they can connect their accounts:
For users where Argyle does not have coverage, a user will be shown a Can't find your employer? button. Then, there are two possible scenarios for the user:
If document upload is enabled, clicking this button will direct users to manually upload their income verification documents such as paystubs, W-2, and 1099 within the Argyle flow: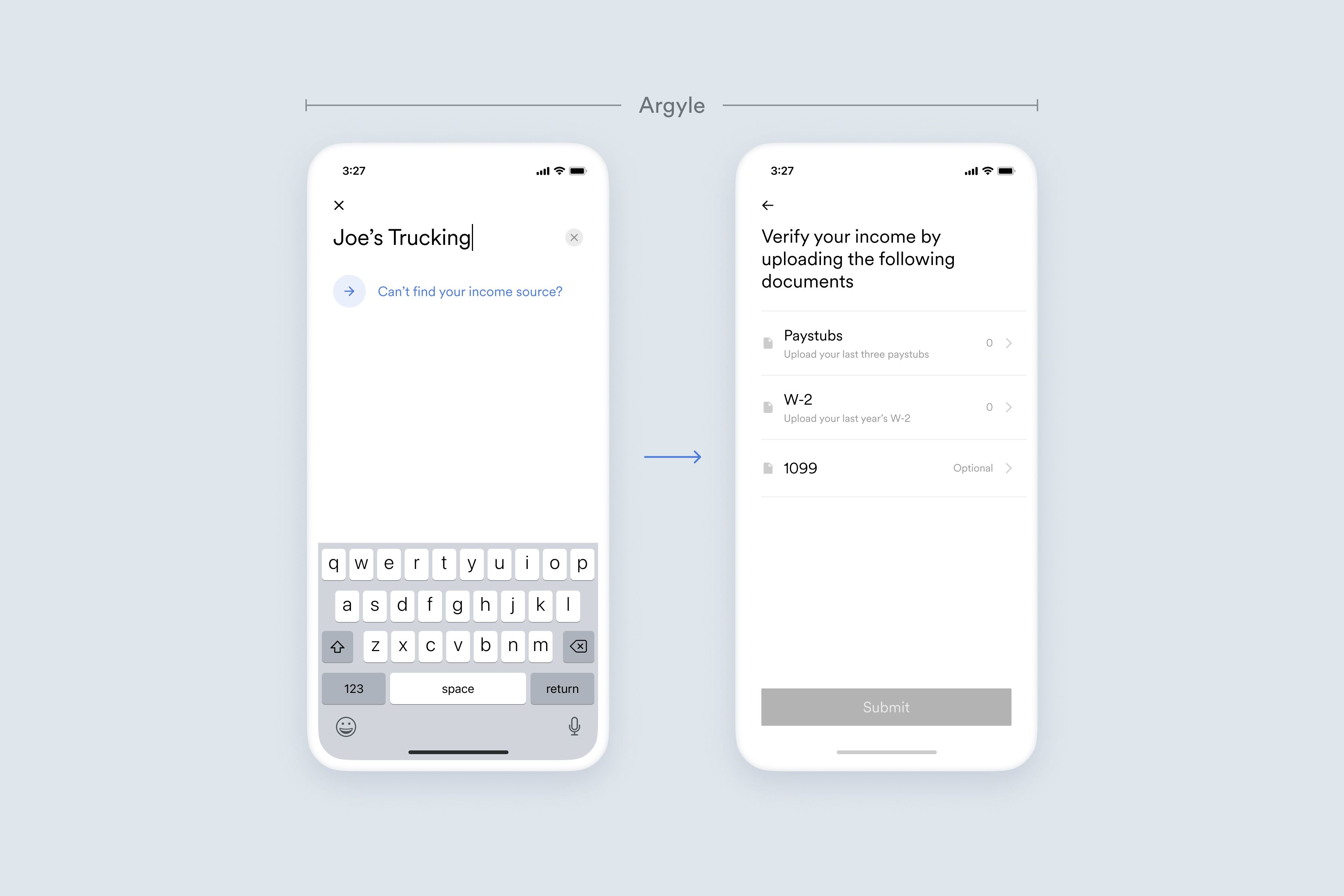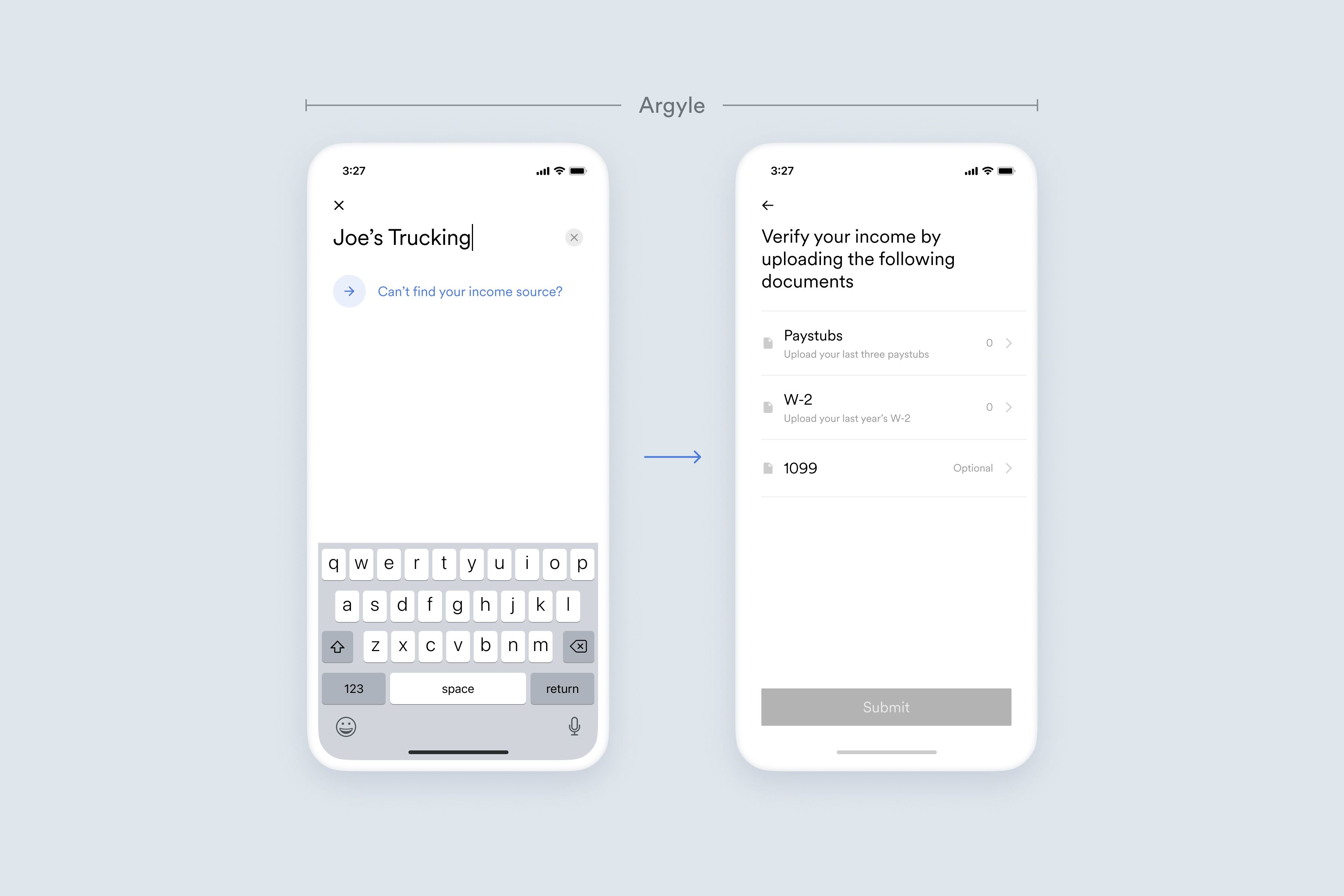 Otherwise, clicking this button will close Argyle Link and initiate a callback for you to funnel the user back to your application for an alternative path. The callback function will receive an object containing a search query that was entered by the user:
We advise sending all users through Argyle as this provides the best user experience and highest conversion rates.
---
Argyle for covered companies only
This option requires you to know who employs the user. You can then check that employer against the Argyle system to confirm coverage. The user will be dropped straight into the login screen (without the need to show the search screen).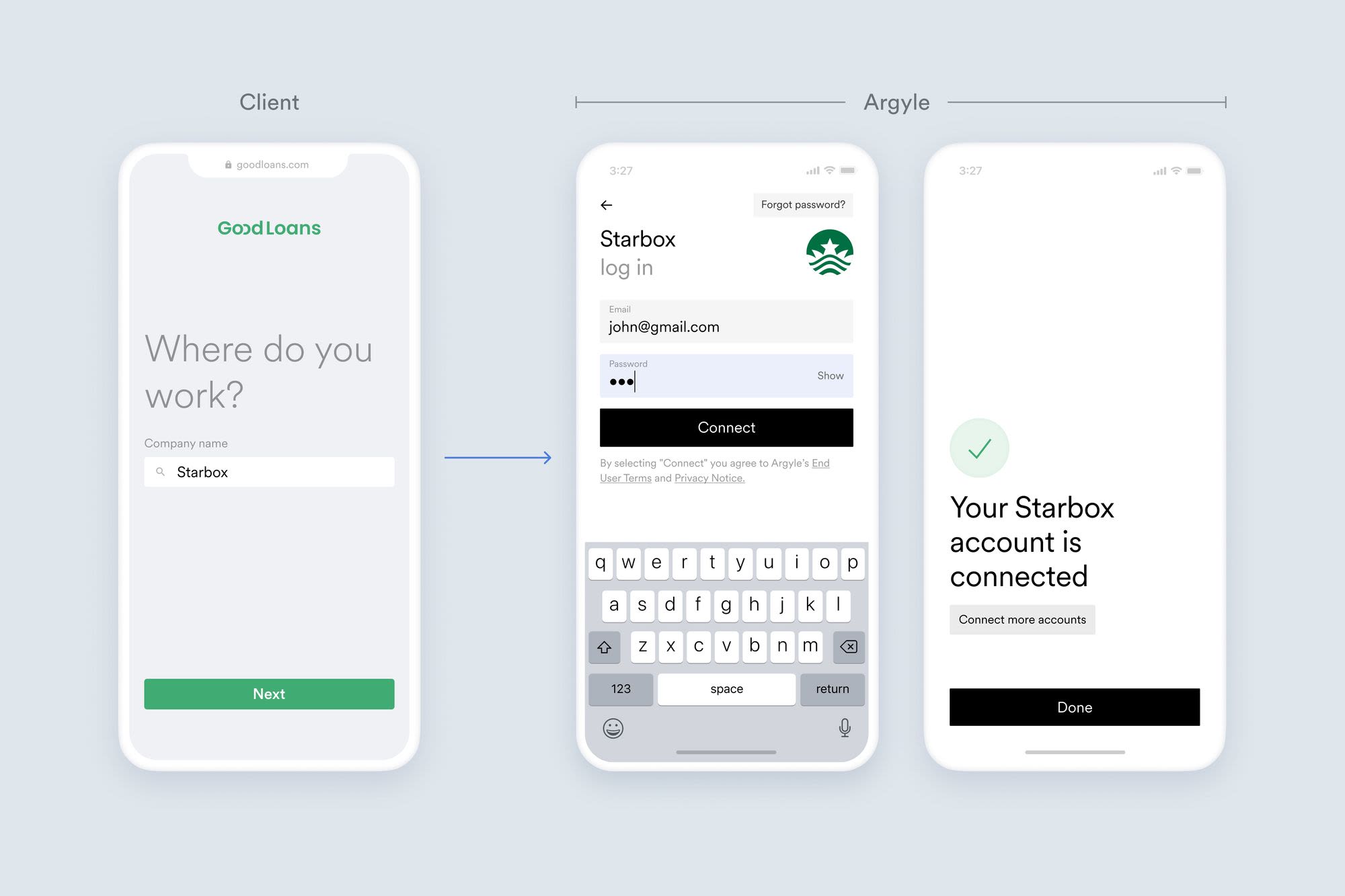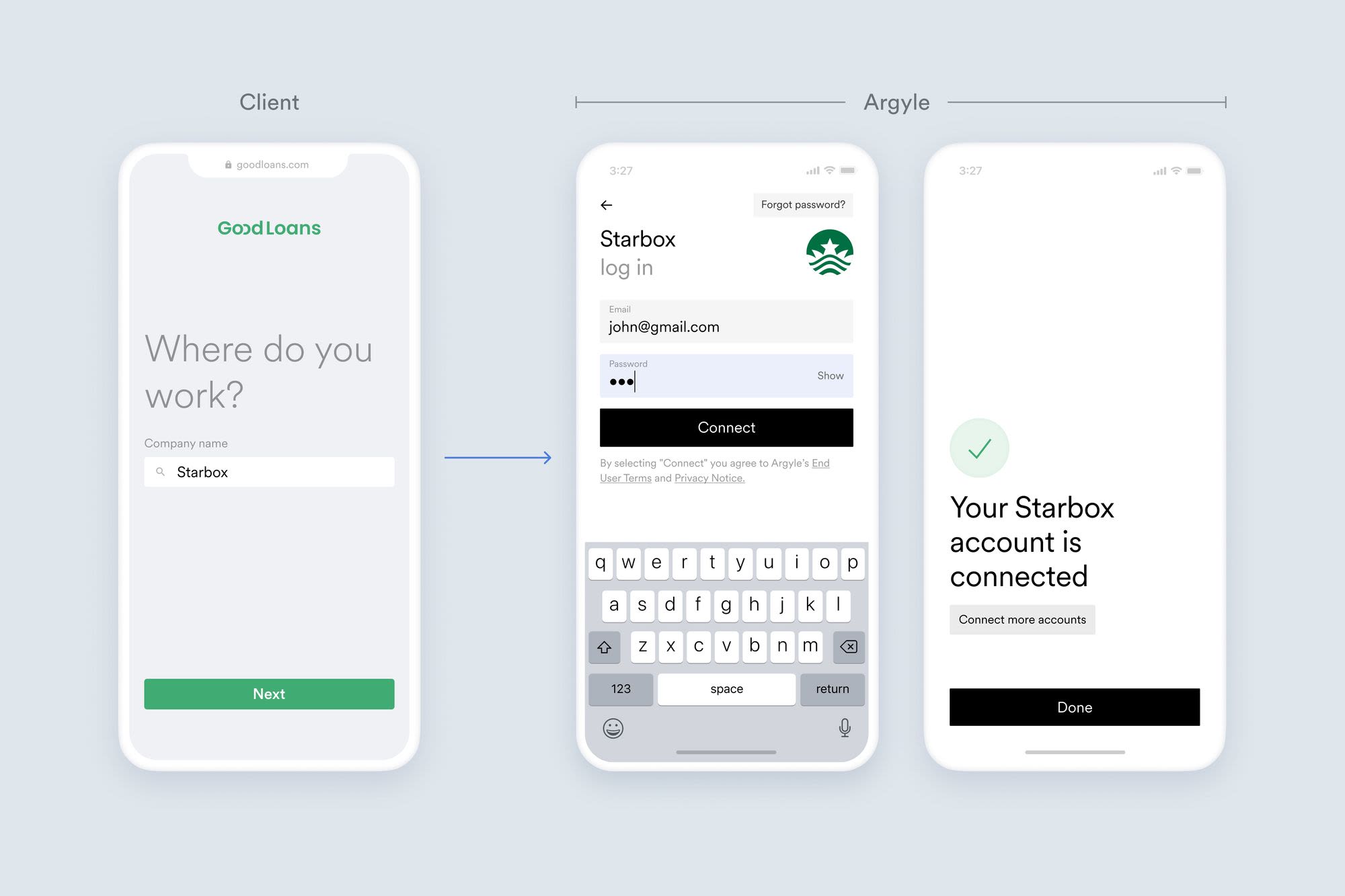 You can utilize the Employer Search sample app to power the company search field in your application.
If Argyle does not cover a particular employer, then funnel the user to upload their documents through the document upload Argyle flow or an alternative flow: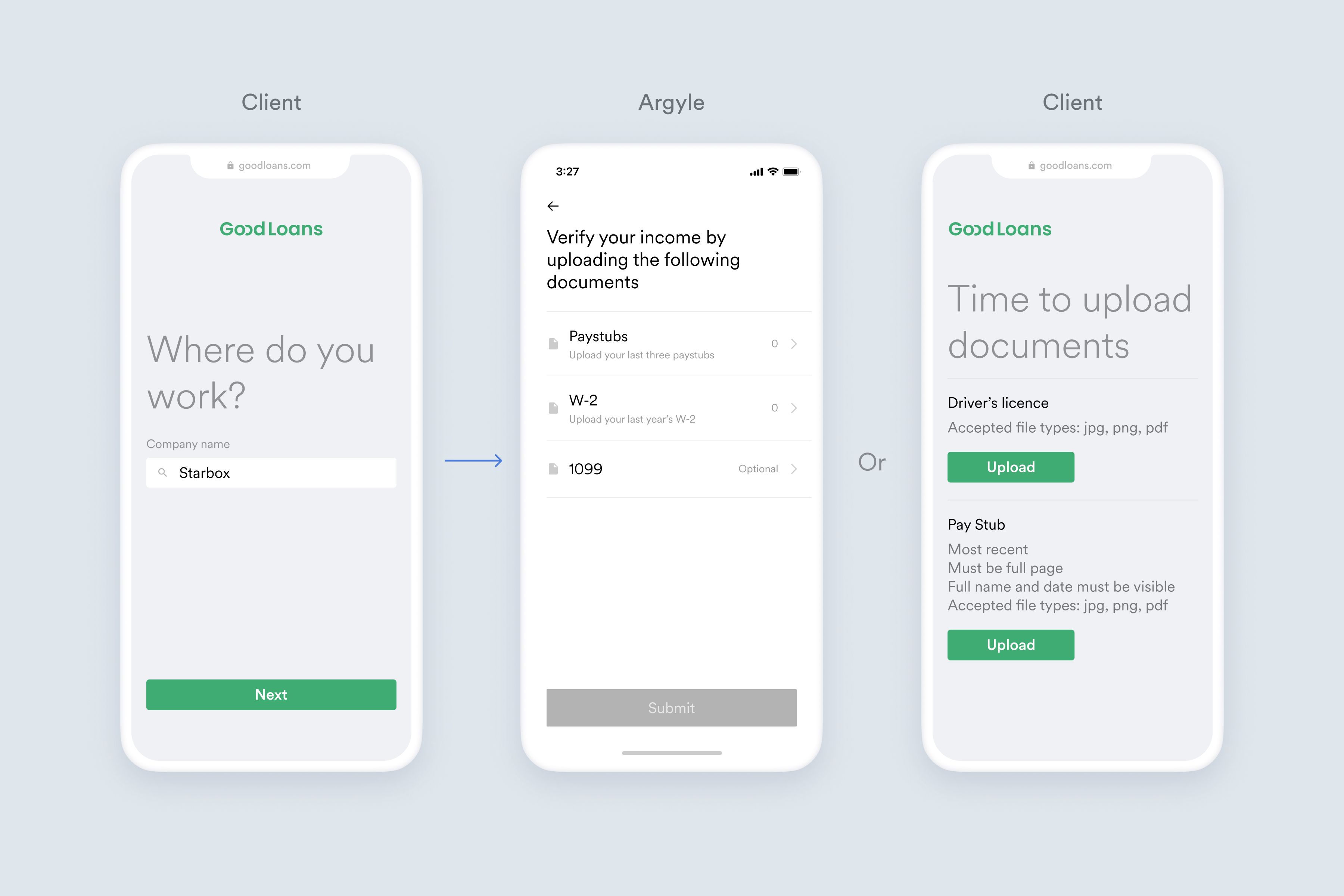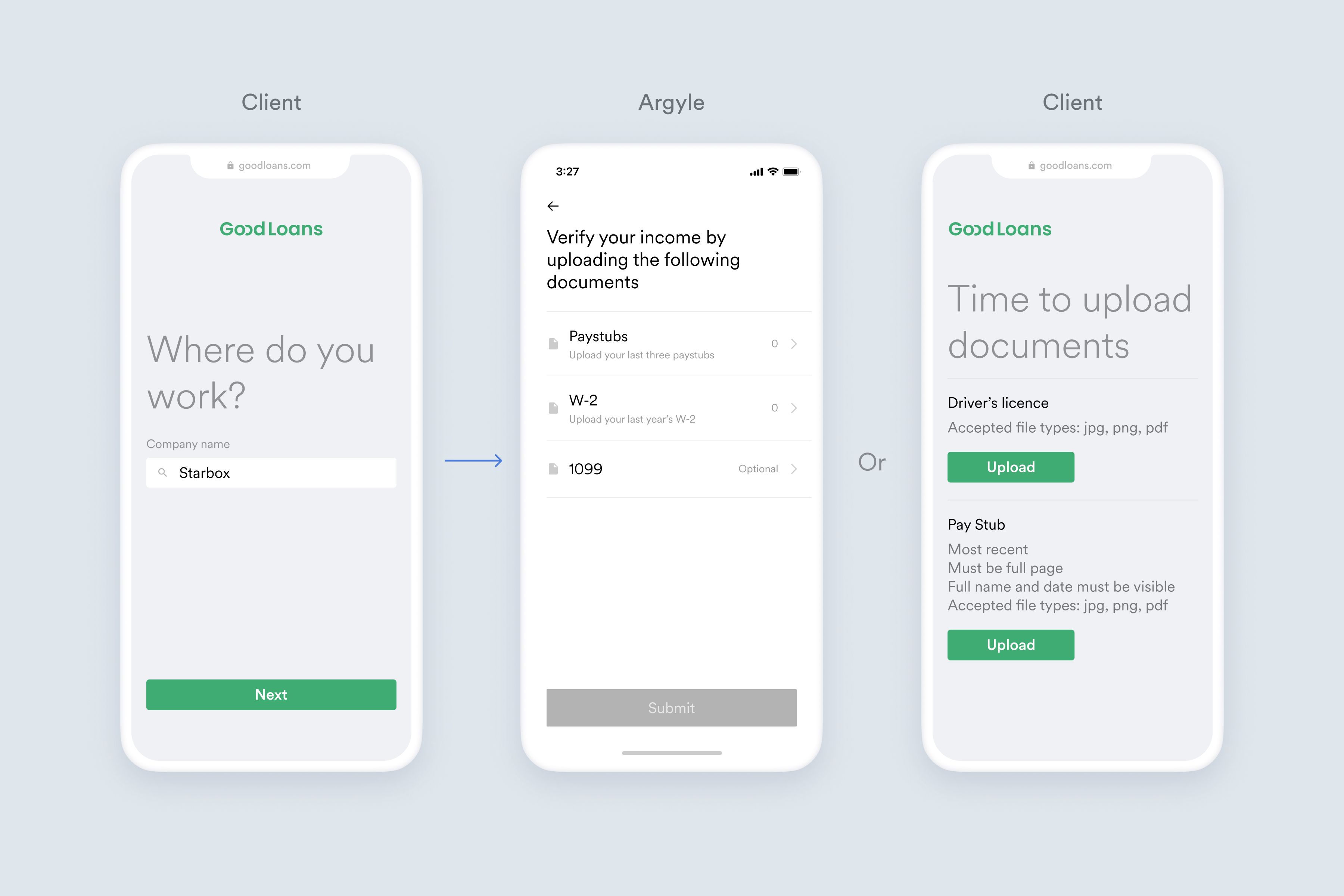 ---
On-ramp users
Now that you've determined 1) where in your flow, and 2) to which users, you want to surface Argyle, it's important to frame Argyle correctly for your users. Best in class implementations provide two things:
Incentive - users need to clearly understand why they are verifying their income & employment and the benefit this will give them. Making it clear that this will allow them to complete their application faster and get the best rates, is ideal.
Context - provide users with context into the process they will go through. Users need to understand that they will 1) search for their employer, and 2) connect their employment or payroll account.
An example on-ramp screen is provided below.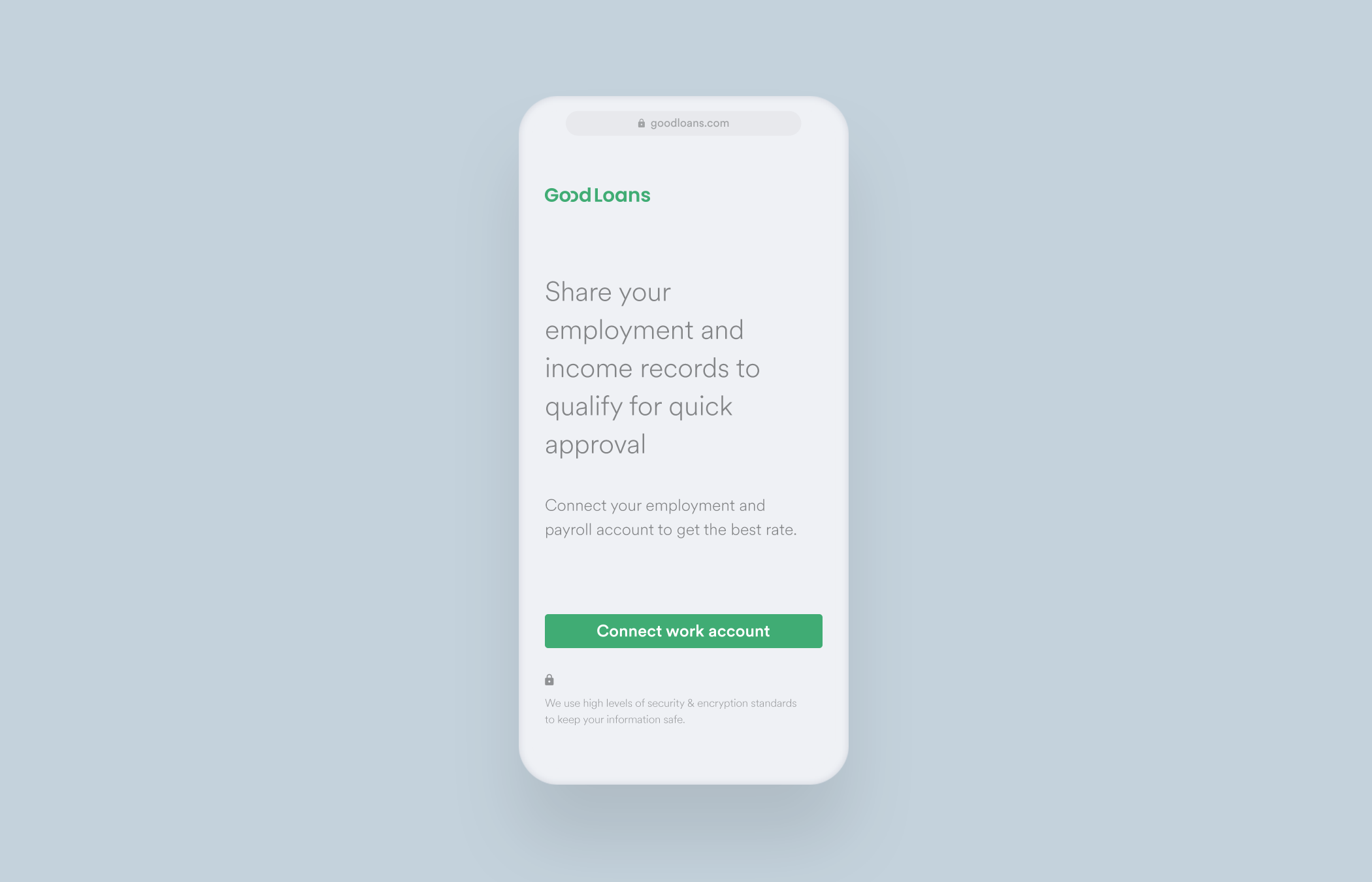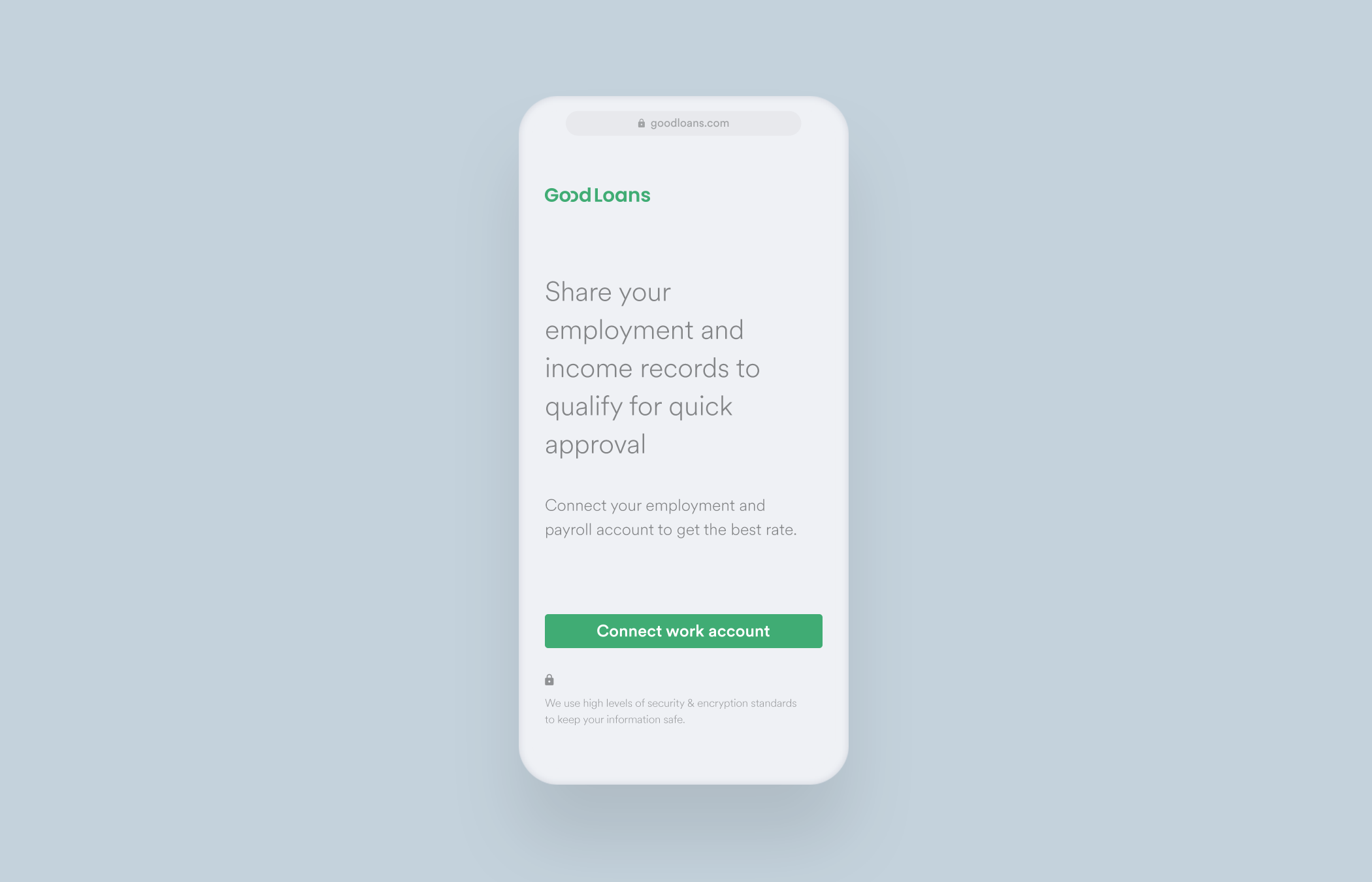 ---
Off-ramp users
After a user connects their accounts and they are funneled back into your application, it is important to let the users know what will happen next in the process. This will depend on your overall flow and goals but here are some examples: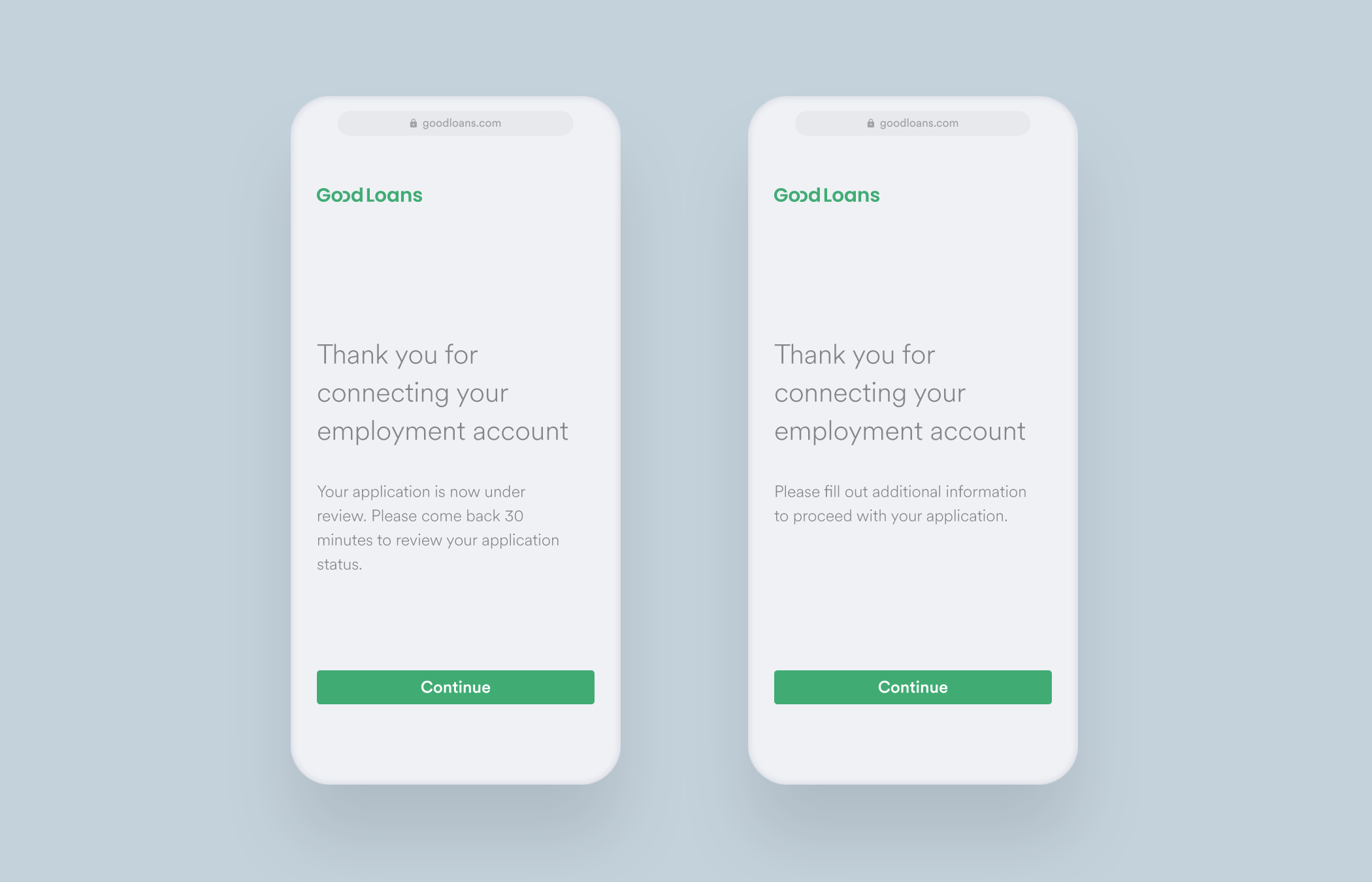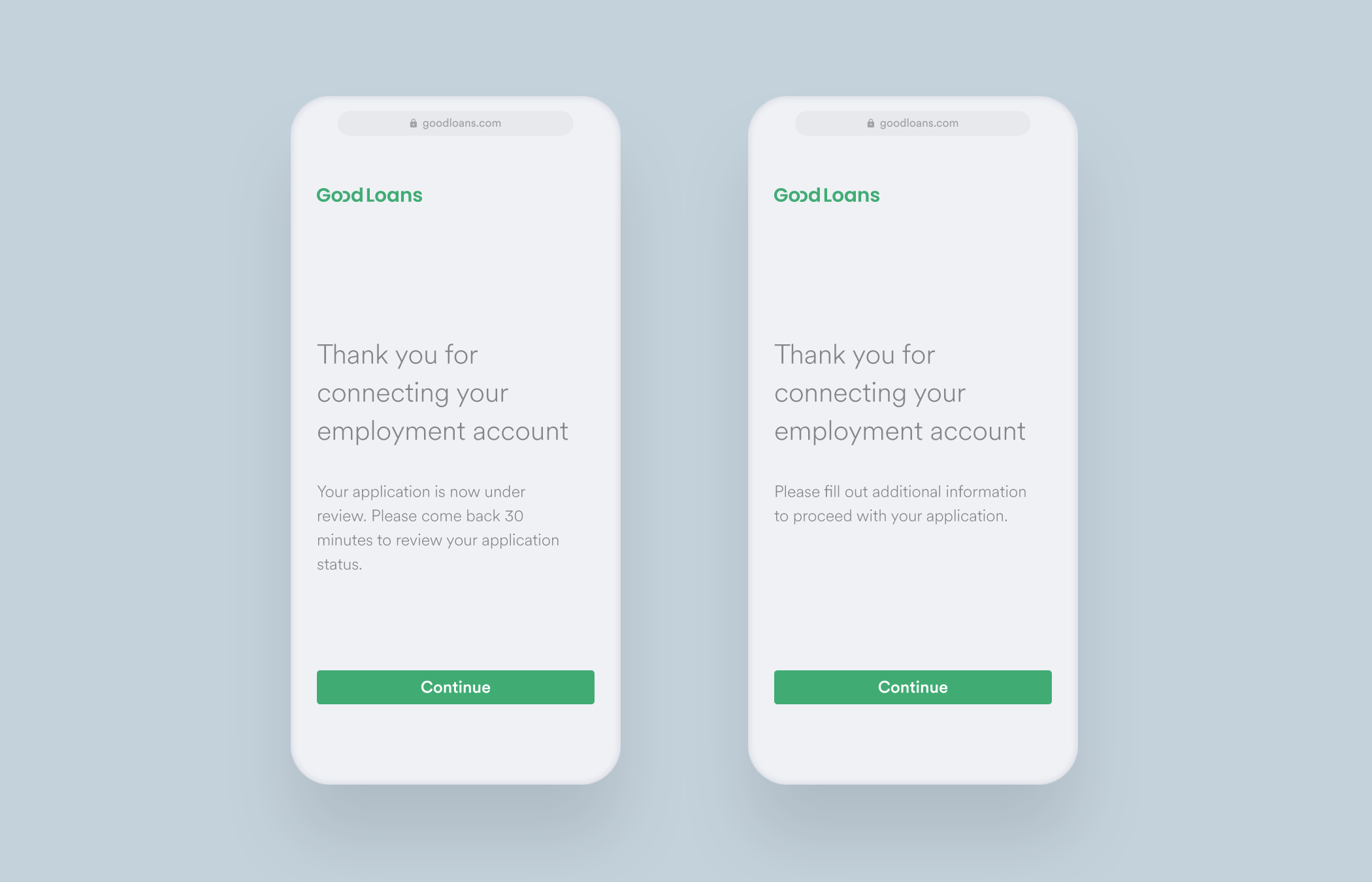 ---
How can a user disconnect their account?
By default Argyle will have your users grant ongoing access to their employment accounts. Provide users with an option to invoke Argyle Link (for example, from an account settings page) so that they can revoke access.
---
Step 2: Scope the required data
Argyle has access to 140+ employment record data points. For verification of employment, you most likely want to retrieve:
Employment status
Job title
Hire date
For verification of income:
Net pay
Gross pay
Taxes
Deductions
Refer to the Argyle API reference for a full list of all available data points.
---
Data retrieval times
Not all data is created equal. Employment information like job title or profile information like name are quite stable and usually can be retrieved very quickly. However, paystub information requires a bit more time to download and scan pdf files. Refer to the diagram below to inform your decisions on data retrieval times: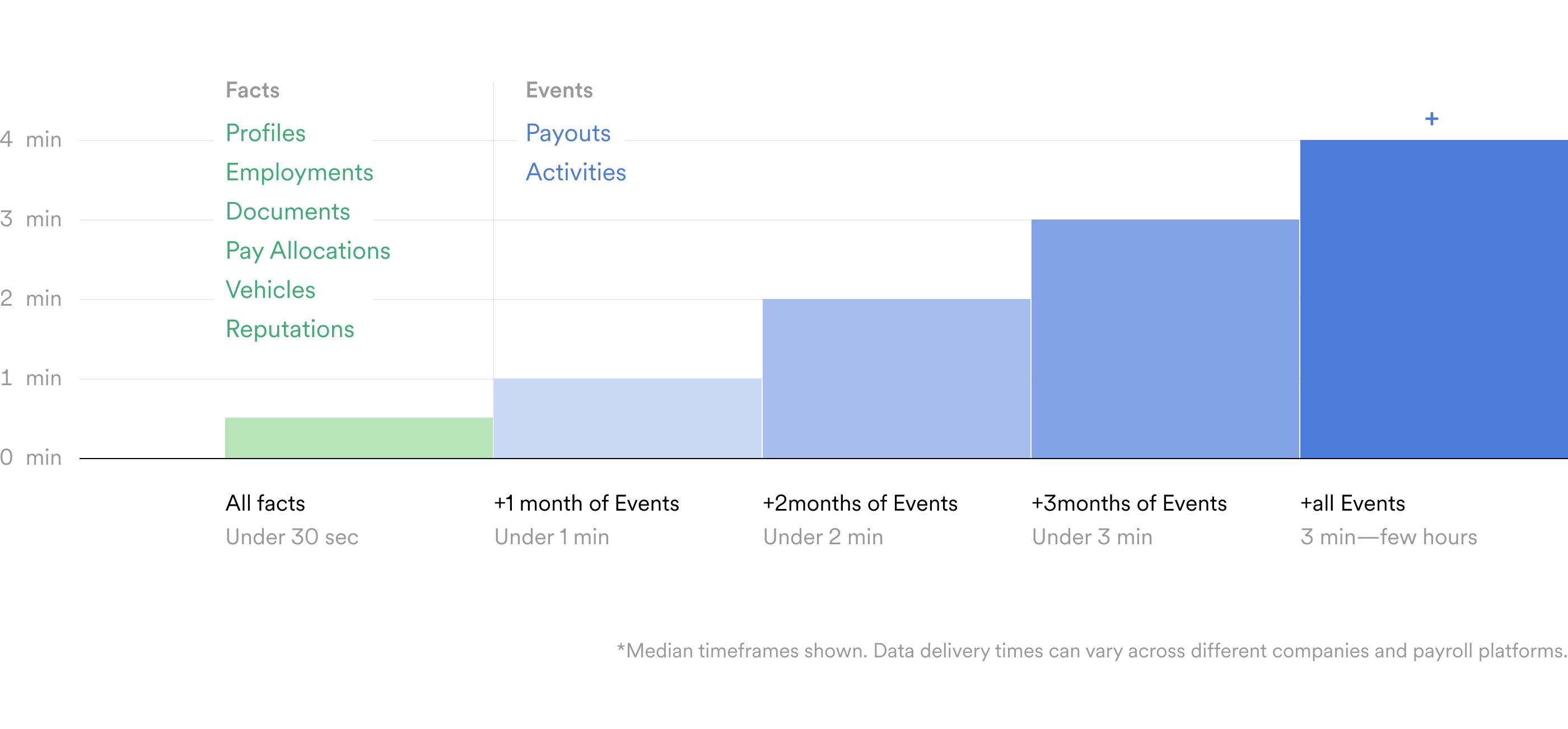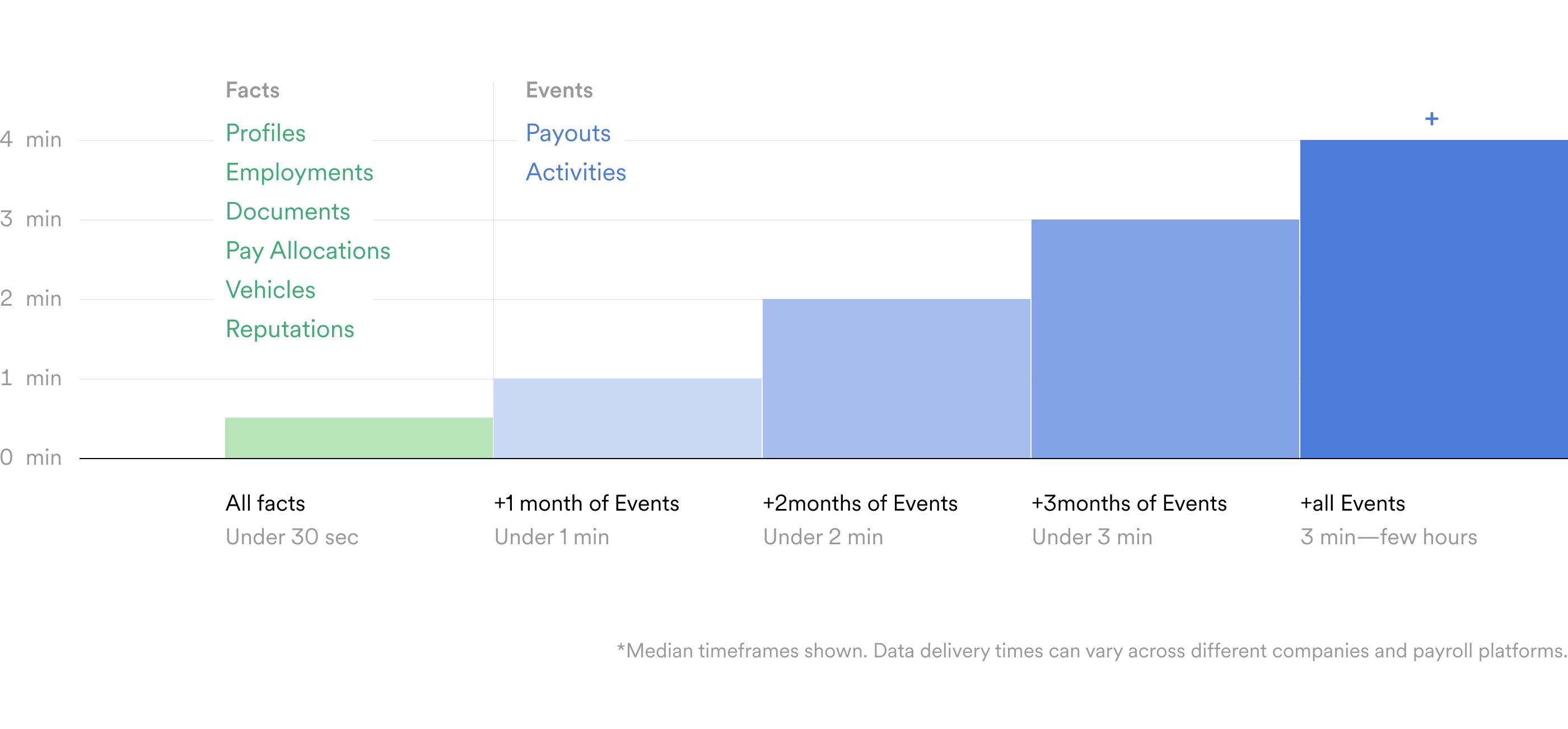 ---
Next Steps
VOIE: Technical Implementation - now that you have scoped your implementation, it's time to move on to the technical part of the implementation.
---