New in Link 4
Learn about Link's updated look and feel for a more integrated and delightful end user experience.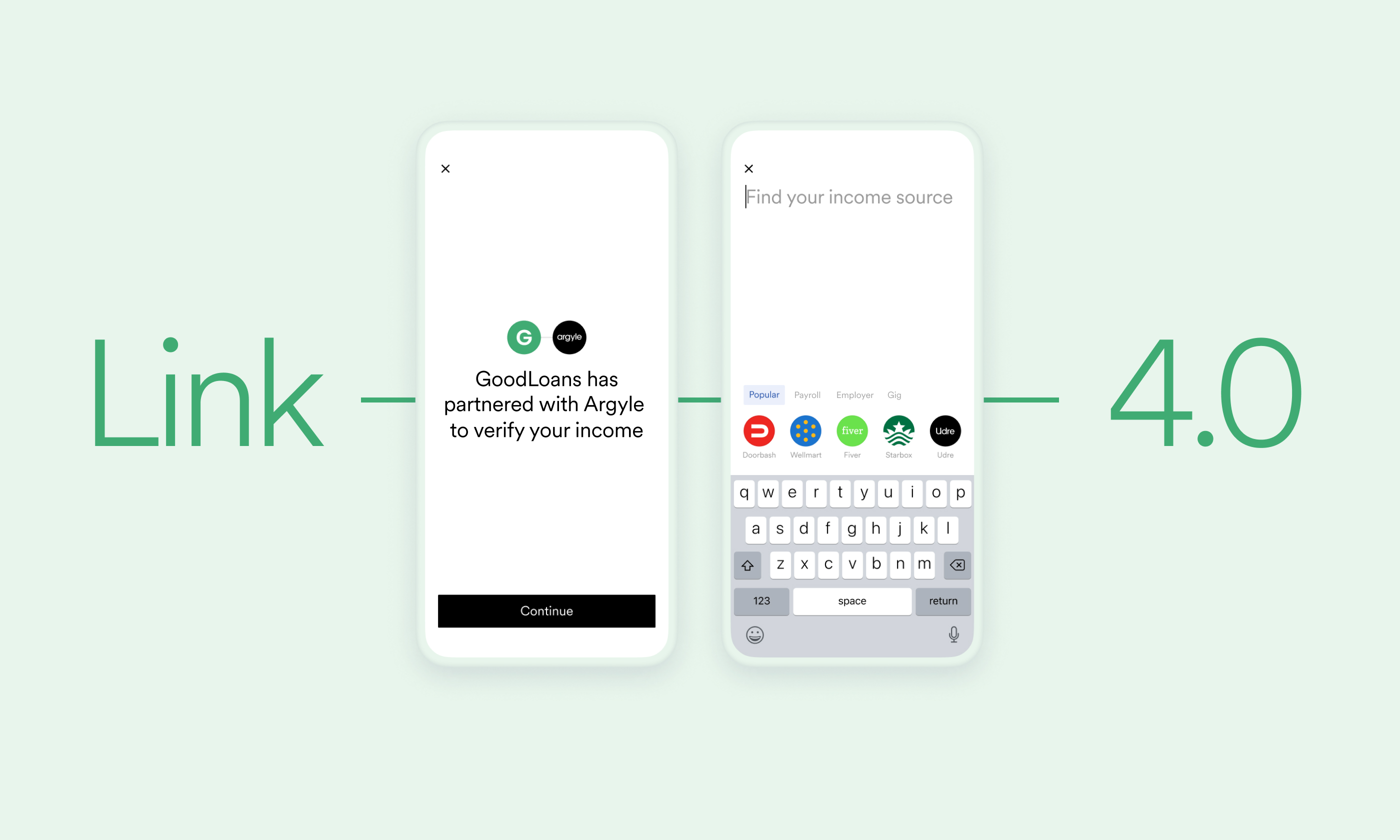 Argyle is always looking for ways to improve the end user experience and increase conversion rates for customers. The latest product release, Link 4.0, aims to do exactly that and is now live.
If you are a web customer, this update will be applied automatically. You do not need to do anything to upgrade to Link 4.0. Mobile SDKs customers can follow the Link Upgrade Guide for instructions to update to Link 4.0.
What's new?
Link 4.0 is a design update aimed at enhancing Link's look and feel for end users. This redesign provides a more transparent and trustworthy experience for your users to successfully connect their accounts, decrease drop-off rates, and overall evolve the visual style to bring consistency across our products.
The latest update to Link includes:
A new Intro screen experience that is customizable through Link Customizer
Modern, simple, and breathable Search screen layout
Improved login experience
Simplified multi-factor authentication (MFA)
Clearer error messaging
Intro screen
The new Intro screen experience provides a clean transition for users connecting with Argyle, including an improved call to action, and information on our data privacy and protection policies.
New Argyle branding on the intro page lets users know that they are signing in with a third party that you have partnered with. This increases transparency and conversion, while complying with regulatory frameworks.
The Intro screen in Link 4 provides new options for customization. You can maintain a more minimal design as in earlier versions of Link, or you can add your company logo, and customize text and buttons. This enables you to align language between your application and your Argyle Link implementation.
You can also configure a secondary call to action that is associated to a callback. Upon receiving this event, you can initiate a backup flow for your users.
All of this can be achieved through Argyle's Link Customizer.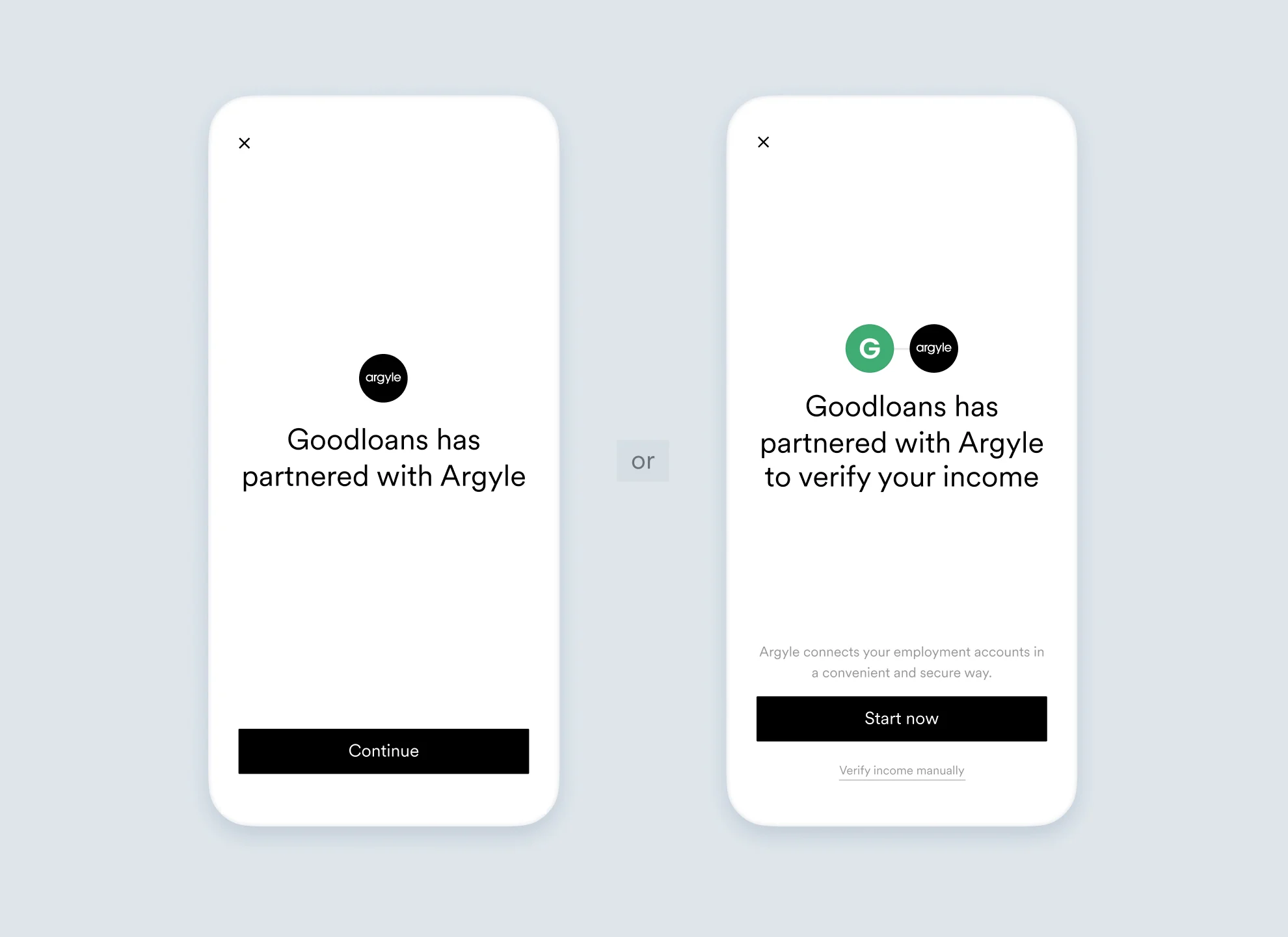 Search screen
The new Search screen experience includes an update to the search bar design and a suggestions component that guides users on what they can search for. There is a new Popular category in search, where you are able to promote your most popular Link items.
Your users are now able to select the new Creator platform and Government benefits Link item categories along with the existing Employer, Payroll, and Gig platform categories.
These new features are all configurable through Link Customizer.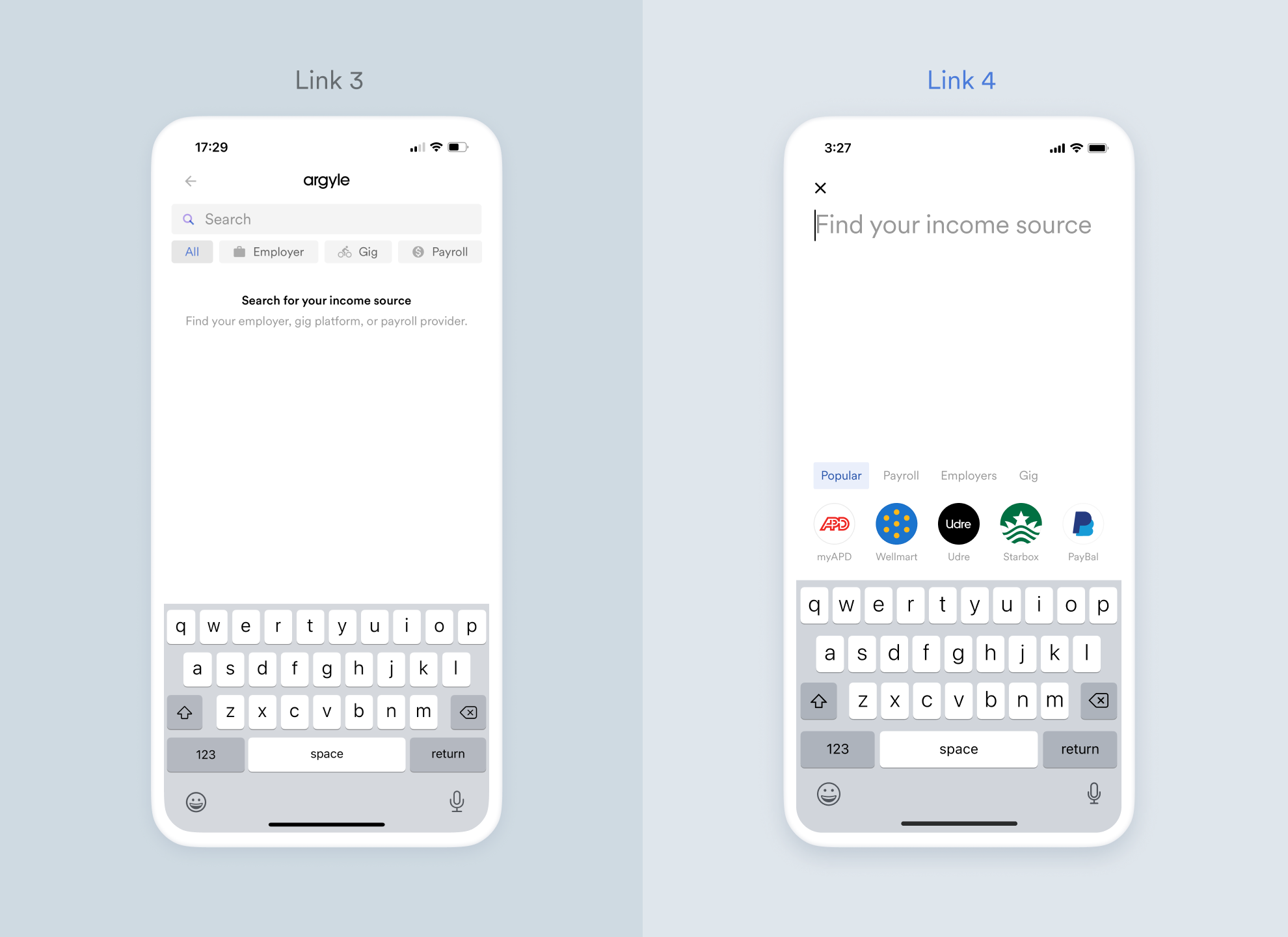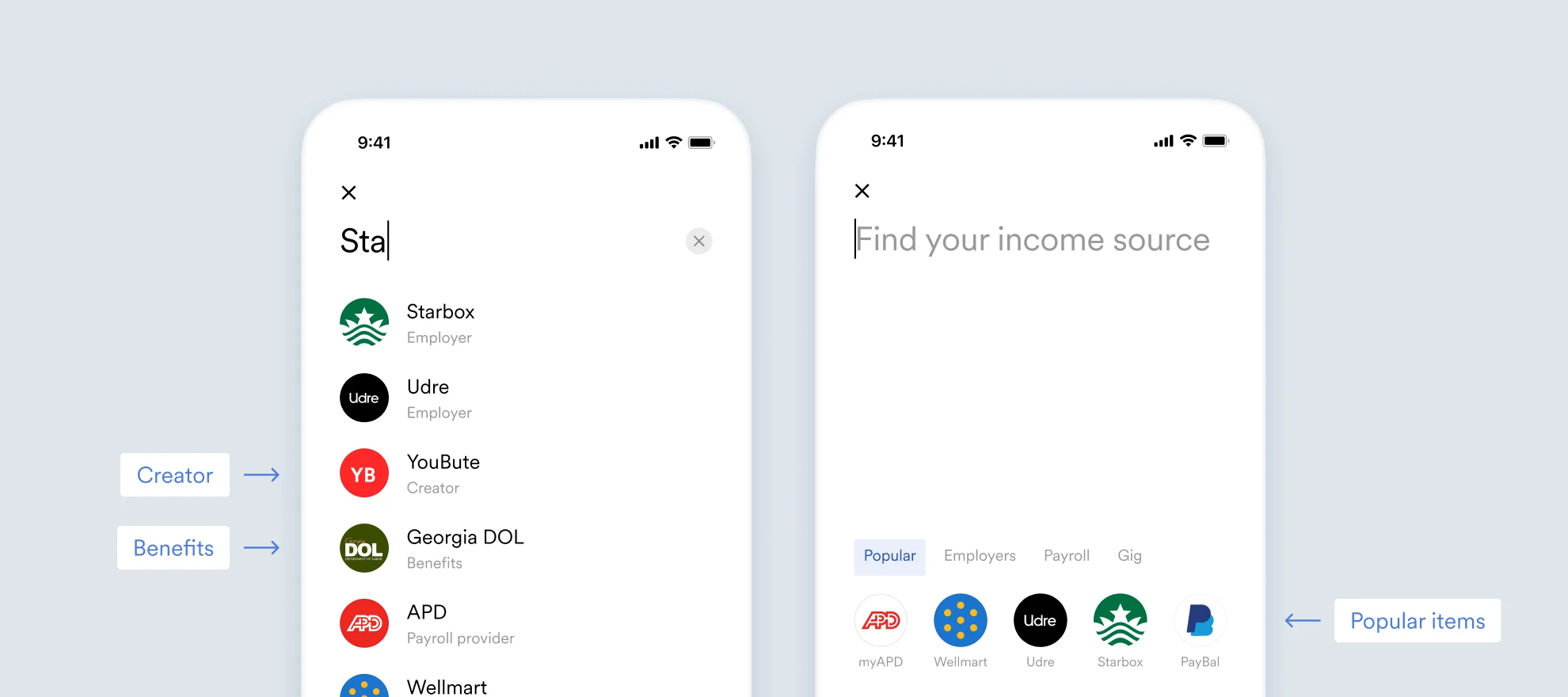 Login screen
The new Login screen provides clear labels for input fields, so users can confidently provide the information you need. Larger input fields and text improve accessibility, while the restyled Connect button indicates that the user can only connect once they've entered their login details.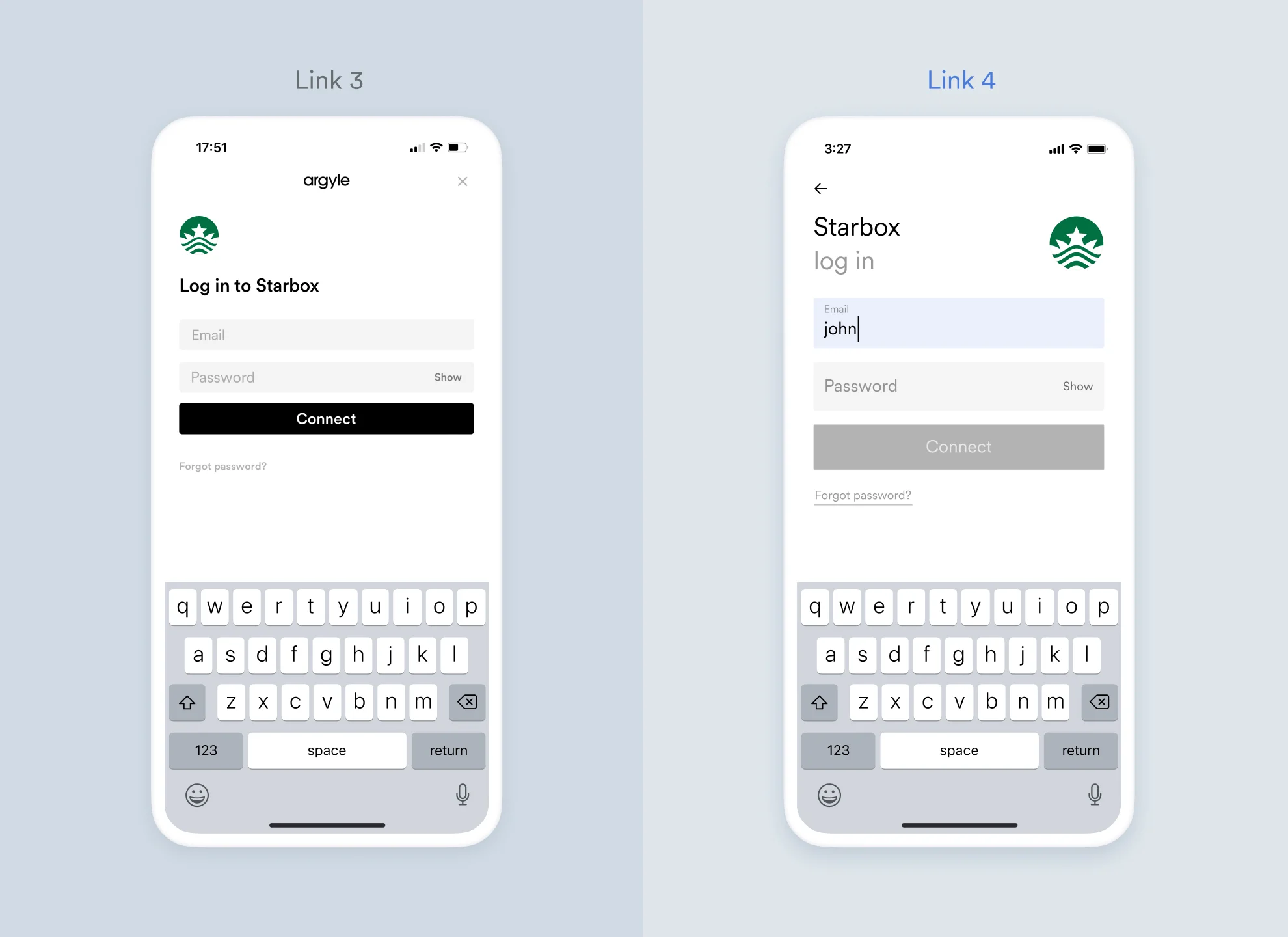 MFA screen
Link 4 provides simplified multi-factor authentication (MFA). This experience provides a one-time SMS passcode pre-fill and deep links to the email application installed on the user's device when the email verification option is configured.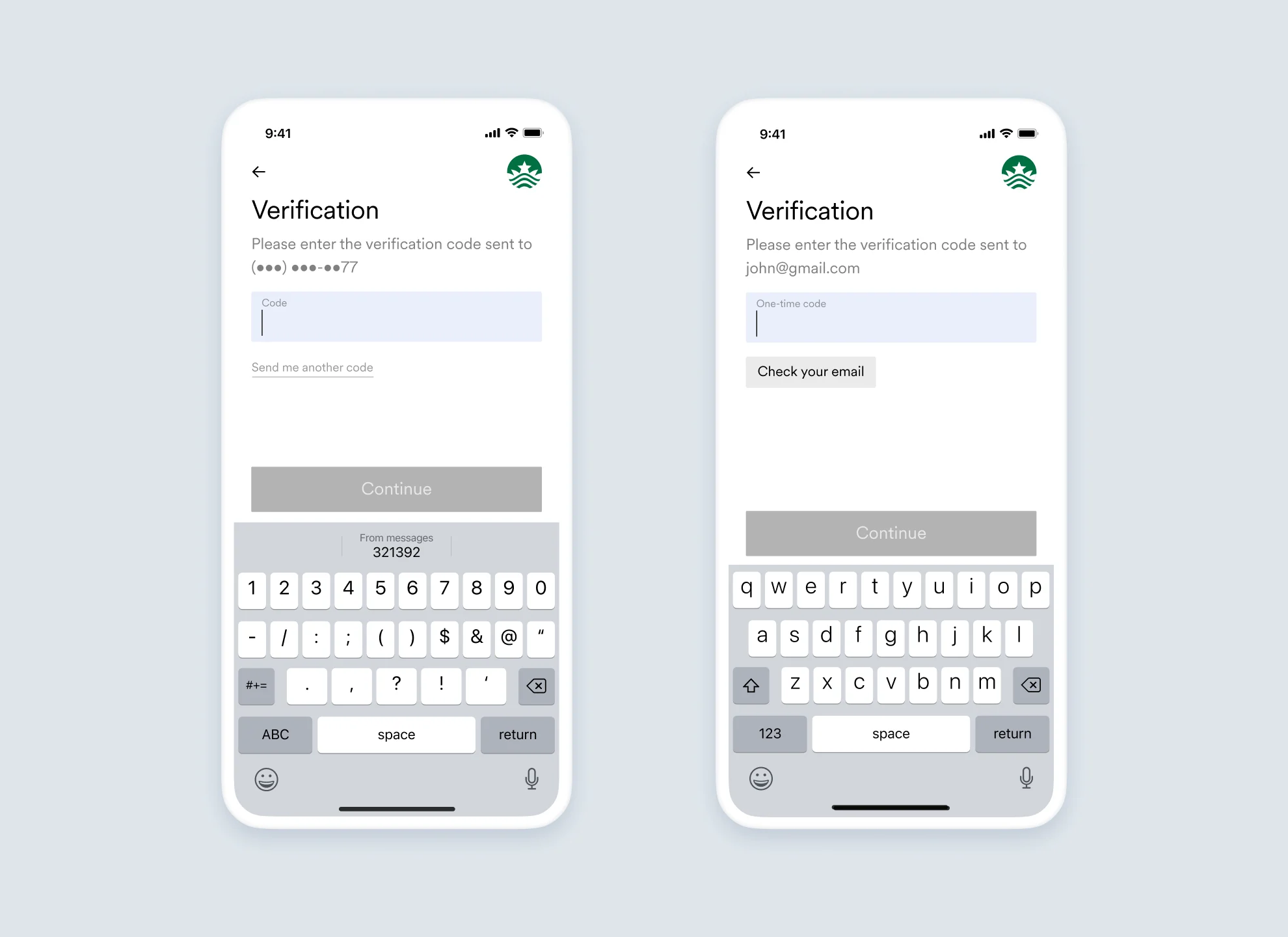 Error messaging
Error messaging in Link 4 shows errors inline, providing feedback and real-time validation that helps your users to input information correctly. Messages appear on the same screen where the error occurred and new error message text provides more clarity on what went wrong. New error messages are precise and clearly indicate if a user should try again immediately, or if a service is down and they must try again later.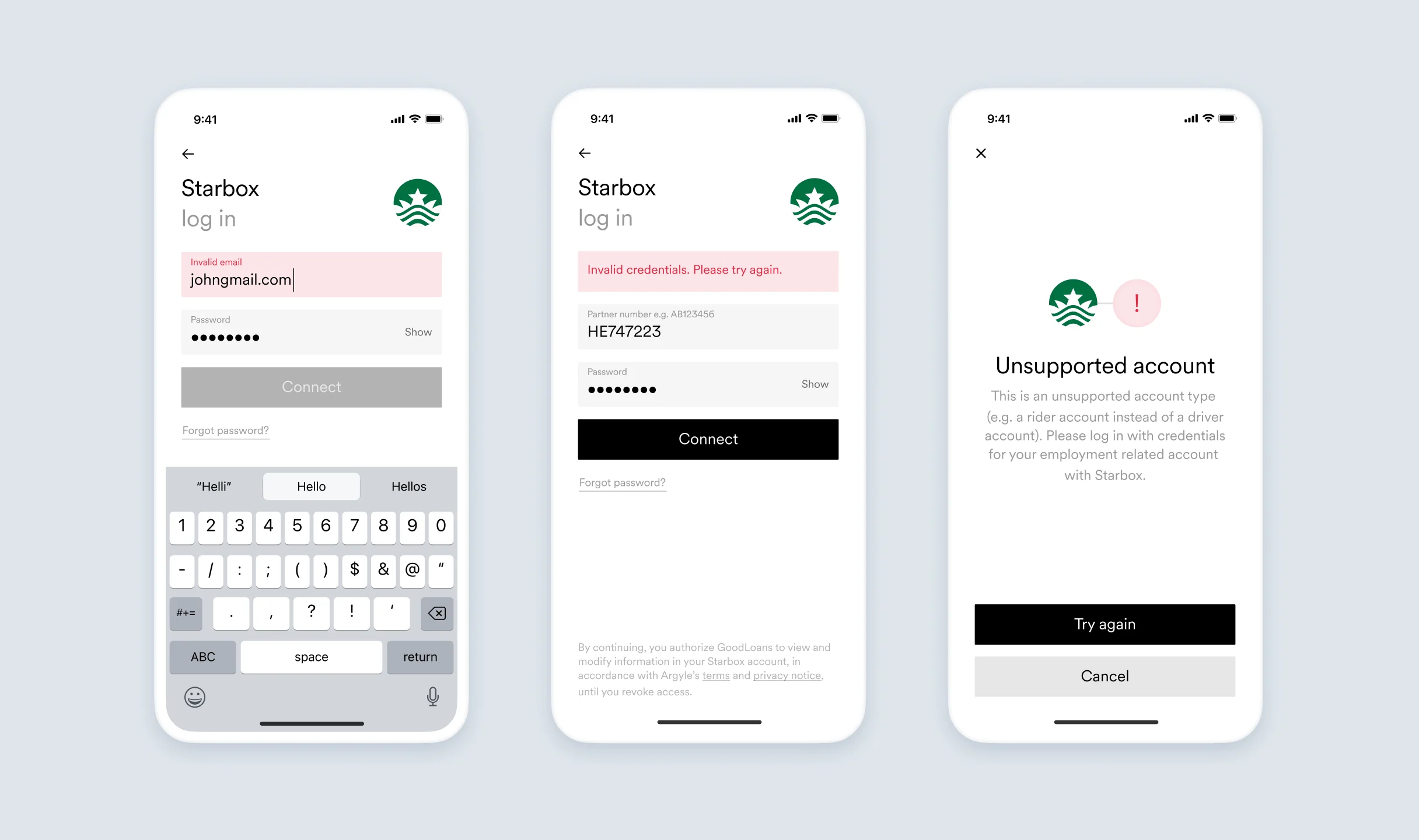 If you have any further questions about Link 4 please don't hesitate to reach out to the Customer Success team.
FAQ
When can I upgrade to Link 4?

You can upgrade to Link 4 now.

If you are a web customer, you do not have to take any steps to upgrade to Link 4, as the updates will be available automatically. You can track the product changelog to see what additional features are made available to you.

If you are a mobile SDKs customer, a new version will be available on the same day for you to upgrade. Check out the Link Upgrade Guide.
Can I keep using the old version of Link?

Are you a web or a mobile customer?

If you are a web customer, you will automatically be upgraded to Link 4.

If you are a mobile SDKs customer, you can keep using the old version of Link, but Argyle strongly recommends upgrading to the newest version and letting your end users enjoy the new look and feel of Link 4.
Can I still customize Link?

The various button and placeholder texts can be customized to meet your needs and provide a seamless transition for users moving between your website or application and the Argyle experience.

Argyle Link can be customized through the Link Customizer - a tool in Console, where you can manage and preview your Link customizations.
Can I still deep link?

Yes! The deep linking experience remains the same following this update.

The new, clean design will promote higher user conversion but will not create any breaking changes for you.
Are there any breaking changes?

There are no breaking changes.
Are there any mandatory configuration changes for migration?

Web: No mandatory changes
React Native: No mandatory changes
Android: No mandatory changes
iOS: The pluginKey configuration parameter has been renamed to linkKey

These configuration parameters are no longer used and you should remove them from your implementation:

introSearchPlaceholder: Removed. Became redundant due to Intro screen redesign.
searchScreenTitle: Removed. Became redundant due to Search screen redesign.
searchScreenSubtitle: Removed. Became redundant due to Search screen redesign.
dataPartners: Removed. This property has been deprecated since introduction of Link 3 in favor of linkItems.
---